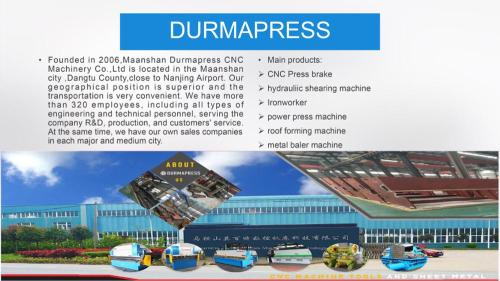 Main Features:

1. Totally European design, streamlined looking,Monoblock,Welded steel frame

2. MTR PRESS BRAKE is Equipped with the Estun user-friendly user interface,the E21
provides all main press brake functionality.

3. Automatic tonnage and stroke adjustment for bending angles.

4. All tubes are connected by tube insertings to avoid oil lost and burst by welding tubes.

5. Ball screw and line guide was designed to improve precision.

6. E-Z fast wedge clamping was designed to change tools quickly.

7.Safe fence and the electric interlocker



Standard Equipment:

1.System Intermediate Upper clamps with Anti Wedges

2.Plate Support Arms

3. Powered Depth Axis

4. Backstop

5. Light guards

6. Top and Bottom Tooling

7. Estun E21 NC control

8. Germany Bosch-Rexroth Hydraulic

9. Telemecanique/SchneiderElectrics

10. Hydraulic and Electrical overload protection

11. Squaring Arm and Front Support Arms

12. Delta inverter with ball screw and polished rod with 0,05 mm accuracy.

13. Side guard is standard meeting CE regulations.
SPECIFICATIONS FOR WC67K-300T/3200mm PRESS BRAKE

Nominal force

3000KN

Worktable length

3200mm

Poles distance

2530mm

Throat depth

400mm

Stroke

250mm

Max open

590mm

Power

22KW

Dimension

3200*2000*3450

mild steel

12mm
Performance:
1. The frame is steel-welded construction, vibrating to eliminate stress, with high strength
and good rigidity.
2. Forcing-torsion shaft maintains the synchronization of both cylinders with high precision.
3. Mechanic stop nuts ensure stable and reliable positioning accuracy.
4. The RAM is driven by hydraulic system with two cylinders. Working pressure could be
adjusted step less and the noise of machine is lower.
5. The stroke of RAM and back gauge could by adjusted through motor; Also it could be
adjusted by hand wheel for fine position. The value adjusted could be displayed on
numerator.
6. Main sliding parts such as cylinders, piston rod, guide way, are all treated with
wear-resistance.
7.There are slanting wedges (compensation units) installed on the top of tools. They
could be adjusted by hand to meet theaccuracy requirements of work piece.
8. Deflection compensation unit is adopted under worktable for the machine above 250
Tons.
9. Full machine is guarded with safety guard with inter locker to prevent the operator from
injured.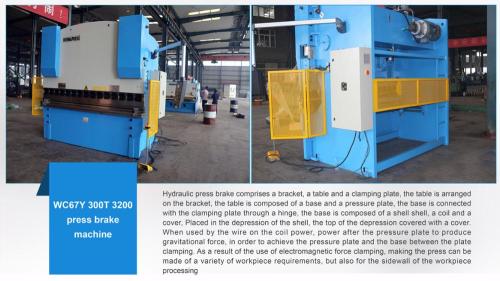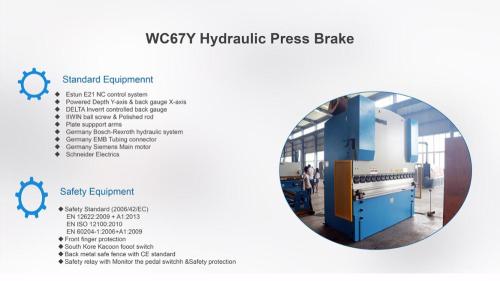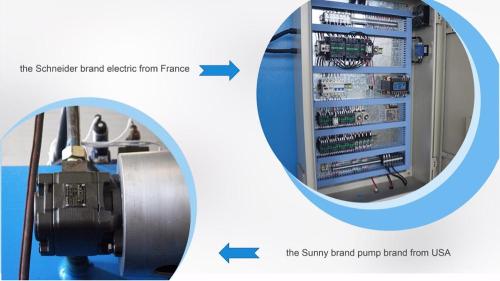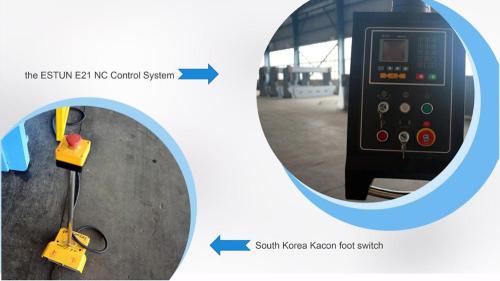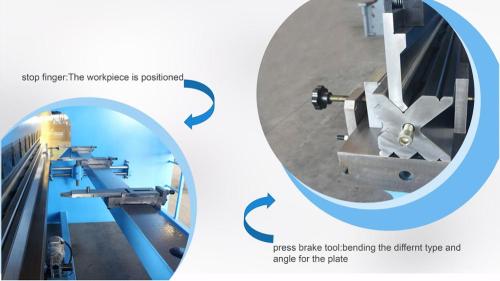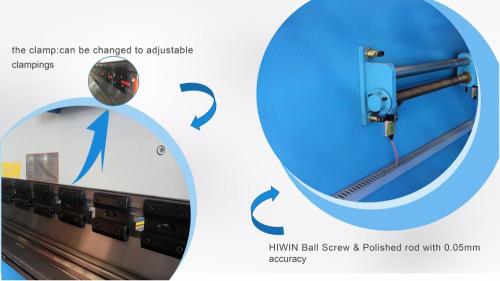 Quality and Service Assurance:

1.we have Q & C department in our factory and our engineer have much experience
and can design the suitable machine for our clients.
2.our machine can produce the nice production, can guarantee good quality.the
production is confirm to the national standard even the international standard
3.the products should not have scratch and the flatness
Technical R & D Department: design teams for different kind of production line.
package:
1.As to the roll forming machine's package, it should be nude.
2.we'll protect the machine well before shipment, to prevent machines from rusting
and damage.
Repairs:
Warranty: 1 year since the date of B / L on
Installation and Commissioning:. We will send professional engineers to buyers' country
for installation and commissioning Buyer pays each engineer 100USD / Day besides the
round-tickets, room and board.
RFQ
How about your machine quality?We are worry about the quality.
Durmapress is a mature brand in CHINA,through our many years research in technology,
our design including structure and detailed sercurity and precision has enhanced greatly,
and can match all the CE standard or more strict standard.Our machines distribute
worldwide to about 50 countries where there are metal plate industry ,there are
DURMAPRESS machines.And where there are our machines,there are good
reputation and terminal user satisfaction.

Whether the machine price can be more discount
Durmapress always provide high quality machine,as we know ,oversea market
is more important and difficult than domestic market because of communication
time costing after sales,So always,our machine has enough quality standard to
make sure the machine can work more than the real warranty period.In this way ,
we will save a lot and think in advance for the clients.
Actually Durmapress also think about our price level,we are sure to provide quality
=price and pice=quality ,the matched price and acceptable for the clients and
durable for our machines.We welcome your negotiate with us and get a good satisfaction.

How about your manufactory in CHINA
Durmapress located in MAANSHAN CITY,ANHUI province who is the leading area in
China and also in the worldwide as the center of the metal plate solution machines,
We have worked about 10 years in this area and totally have about 150 staffs.Rich
experience in this field with professional technical supporting and oriented service.
We welcome your visit to us any time.

Do you accept L/C payment term?
Yes,we accept 100% L/C at sign from almost all countries.