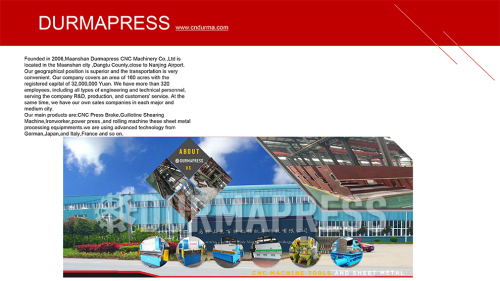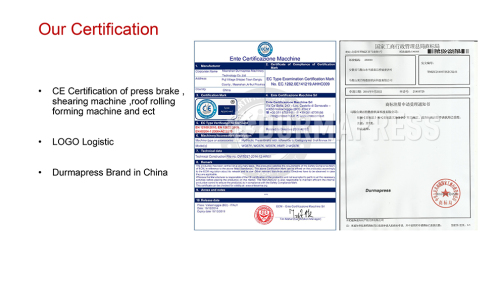 Ma'anshan Durmapress Machinery Technology Co., Ltd mainly produces "Tenroy" brand press brake, shearing machine, rolling machine, punch press, air duct making machine, press brake tools, punch press tools and shearing blades etc. Our products are sold throughout the country, exported to more than 80 countries.
Sophisticated equipment and specialized manufacturing, provide us a strong guarantee for the large-scale growth and quality assurance on high-tech products. Tenroy has a number of professional products installation and commissioning workshop and precision parts processing workshop, owing numerical control milling planer, large-scale numerical control boring lathe, numerical control horizontal type treating center etc.
Tenroy always regard "quality first, credibility first, customer first" as purpose, and "blaze new trails, people-oriented" as the spirit of our enterprise. We provide first-class service for customers and a platform for our staff members. We'd like to provide our full support to our new and old customers! So as to help the company that handle with sheet metal manufacturing production create efficiency, and reduce each product processing costs to the minimum.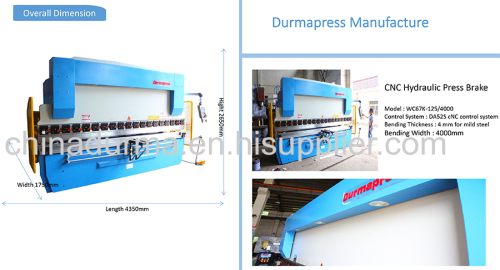 Hydraulic Press Brake Hydraulic Bending Machine
The JiuYing Brand CNC Press Brake Bending machine , engineered with great care for details, is a high quality machine tool. The studies made on the framework flections have allowed us to design a product that reacts in the most appropriate and responsive way to the mechanical solicitations, therefore guaranteeing a stable structure, thus a higher precision in bending. This feature is even enhanced by a system of automatic crowning. Worth mentioning is also the possibility to add options and upgrades on the configuration, at later stage.
JiuYing Brand product designs combine accuracy, speed, flexibility, durability, reliability and advanced technology to deliver machines with the highest performance-to-price ratio in the industry.
Produtivity:
- Automatic adjustment Powered Depth Y-axis & Back gauge X-axis.
- User-friendly control
- High performances
Precision:
- Structural compensation system
- Schneider inverter-motorized axis
- Proporcional hydraulics
Safety:
- Machines with directive CE 2006/95 CE
- Safety light curtain
Reliability:
JiuYing Brand has a strict policy for the choice of its components, on the basis of an extensive experience acquired over decades. All components are certified in accordance with European standards and their main sources are Germany, USA, Holland, Italy and Switzerland. All structural parts are calculated by the finite element method.
Hydraulic Press Brake Hydraulic Bending Machine Features
1.High precision,high efficiency CNC control system

2.Backgauge is drove by servo motor and performance

3.Taiwan HIWIN Ball Screw and linear guide work for backgauge

4.Stabilizes left and right balance with help of the mechancal Torsion Bar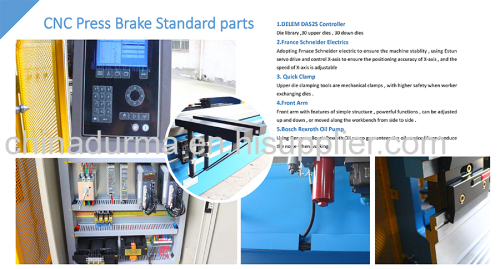 WC67Y/K Series Hydraulic Hydraulic Press Brake Hydraulic Bending Machine data
| | | | | |
| --- | --- | --- | --- | --- |
| Type | Nominal Force | Throat Depth | Max Open | Power |
| 80/3200 | 800KN | 320mm | 340mm | 7.5kw |
| 100/4000 | 1000KN | 320mm | 380mm | 7.5kw |
| 160/3200 | 1600KN | 320mm | 470mm | 11kw |
| 200/4000 | 2000KN | 320mm | 470mm | 15kw |
| 250/3200 | 2500KN | 350mm | 530mm | 15kw |
| 300/3200 | 3000KN | 400mm | 540mm | 22kw |
| 400/4000 | 4000KN | 450mm | 540mm | 37kw |
| 600/4000 | 6000KN | 450mm | 590mm | 45kw |
| 800/6000 | 8000KN | 450mm | 590mm | 55kw |
For the Hydraulic Press Brake Hydraulic Bending Machine ,besides the above model,we accept customized accordingly.
pls advise the plate length and thickness,we will design the Hydraulic Press Brake Hydraulic Bending Machine for you.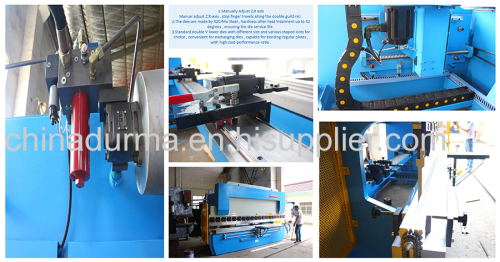 Except for the Press Brake & Bending Machine.
we also provide the Guillotine shearing machine, Rolling Machine, Iron Worker,
Punching Machine,Press Embossing Machine.
If you are interested in them,please contact us as below info.
we use the famouse brand for Hydraulic Press Brake configurations,smoothly cutting effect,
good quality and high performance.
| | | | |
| --- | --- | --- | --- |
| No. | Item | Quantity | Brand |
| 1 | Motor | 1Set | Siemens China |
| 2 | Gear pump | 1Set | Sunny USA |
| 3 | Casting connector | 1Set | Cast CO Italy |
| 4 | Main electric parts | 1Set | Siemens China |
| 5 | Hydraulic system | 1Set | Rexroth Germany |
| 6 | Sealing rings | 1Set | Valqua CO Japan |
| 7 | Blade | 1Set | Jinshan China |
| 8 | Ball screw and line guide | 1Set | Hiwin TaiwanChina |
| 9 | E21 CNC System | 1Set | ESTUN China |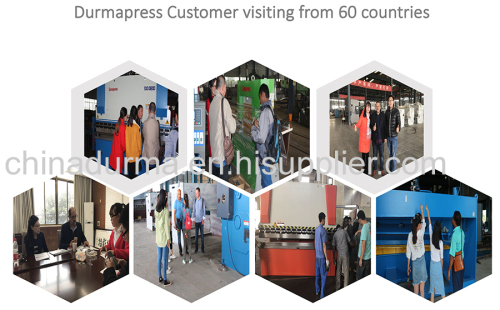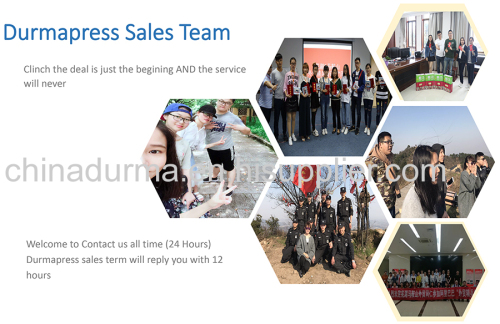 FAQ
I. How about your machine quality?We are worry about the quality.
HaoZe is a nature brand in CHINA,through our over 10 years research in technology,our design including structure and detailed sercurity and precision has enhanced greatly,and can match all international standard or more strict standard.Where there are our machines,there are good reputation and terminal user satisfaction.
II. Whether the machine price can be more discount
1).HaoZe always provide high quality machine,as we know ,oversea market is more important and difficult than domestic market because of communication time costing after sales,So always,our machine has enough qaulity standard to make sure the machine can work more than the real warranty period.In this way ,we will save a lot and think in advance for the clients.
2). Actually HaoZe also think about our price level,we are sure to provide quality=price and pice=quality ,the matched price and acceptable for the clients and durable for our machines.We welcome your negotiate with us and get a good satisfaction.
III. How about your manufactory in CHINA
HaoZe located in Ma'anShan city, AnHui province who is the leading area in China and also in the worldwide as the center of the metal plate solution machines,We have worked over 10 years in this area. Rich experience in this field with professional technical supporting and oriented service.
We welcome your visit to us any time.
If you have any question,please feel free to contact us!